Once a key player in Florida's booming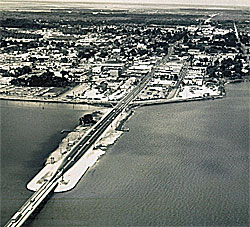 citrus industry, Merritt Island joined the space race in the 1950s and 1960s, its prosperity and popularity soaring along with the rest of the Space Coast, a vibrant and growing stretch of the beautiful central Florida shoreline.
In the mid-1800s, the area was known for producing world-famous Indian River oranges and grapefruit, and pineapples also thrived in the sandy soil. The small towns that once dotted the island–Georgiana, Courtenay, Tropic, Fairyland, Orsino, Angel City, Wilson and Indianola among them–have vanished, leaving Merritt Island to be administered by Brevard County. Water and sewer service come to the island's residents from the nearby town of Cocoa.